Our musical director, Benjamin Wolf, has led the Royal Free Music Society since 2010.  He is also Musical Director of the Zemel Choir and the Wallace Ensemble, choirmaster of Belsize Square Synagogue and a regular conductor of the Quorum Chamber Choir.
Benjamin also works as a composer, performer and academic.  He has written music for the concert hall and the stage, including a piano concerto and a cello concerto commissioned for the 70th anniversary of Belsize Square Synagogue.  He has also written a number of pieces for the Zemel Choir and composed new instrumental works for the Chichester Festival in 2013 and 2014.  Most recently, he composed Armistice which was performed by the RFMS and Zemel choirs in November 2018. This was reviewed in the Jewish News.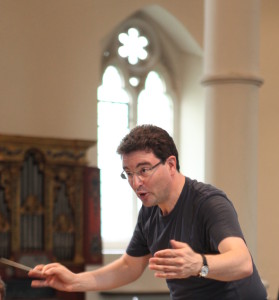 As a pianist, Benjamin works as both accompanist and solo recitalist, whilst his singing mainly focuses on performances with his own Jewish barbershop quartet, bOYbershop.
After getting his PhD in 2010, Benjamin worked as a visiting lecturer at Royal Holloway and Senior Associate Teacher at Bristol University.  He now works as Lecturer in Music at Regent's University, London.  He has given conference papers in the UK and America, and was on the organising team for a conference at the Institute of Musical Research in January 2013.