Current midi files and pdfs for rehearsal: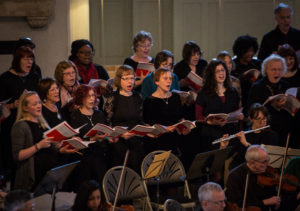 Handel: Coronation Anthems
(We are using the Novello SATB score)
You will find Cyberbass midi files here. Apparently there are some notes that don't match our scores so you can also try the John Fletcher files. You should be registered on this site from last term. If not, contact the choir.
Gill has recorded the accompaniment for some of the anthems, more to follow, which we will be using in our Zoom rehearsals. You may find them useful at home as well.
Let thy hand – starts at bar 21
Alleluja page 15 (Note that there is also an Allelulia on page 74 see below)
My Heart is Inditing Accompaniment with part entries
My Heart is Inditing strict Accompaniment
Kings shall be thy nursing fathers
Alleluia page 74 (Note that there is also an Allelulja on page 15 see above)
If you want to listen to a recorded version of the work, Ben has suggested this one on YouTube: Handel: Coronation Anthems HWV 258-261
100 Carols for Choirs
edited and arranged by David Willcocks and John Rutter
Midi files for all these carols are here: But password protected so you need to contact the choir to use them. Note if the password you have been given doesn't work there should be a z in it.
Silent Night Franz Xaver Gruber arr Carl Reinecke
a) Soprano
b) Alto
c) Tenor
d) Bass
e) All parts together
f) Score
CAROL RECORDING GUIDE TRACKS for our first Online Carol Concert
1) In the Bleak Midwinter
a) Soprano
b) Alto
c) Tenor
d) Bass
2) Coventry Carol
a) Soprano
b) Alto
c) Tenor
d) Bass